It's that time of year again. December is here and many people around the world love to celebrate Christmas. Show the Christmas spirit this 2009 season and decorate your Windows desktop with the popular Christmas theme designed by Unibia.net.
This theme can be found through out the Internet on several shareware and freeware download sites from many different countries. Visit out downloads section and grab a copy of this very popular theme for yourself (or just click the link at the bottom). The theme was designed several years ago to work with Windows 98, but it still works very well with Windows XP. Not sure about Windows Vista or 7. Maybe one day I'll start making themes for Ubuntu.
Lets not forget that the holidays are not just about lavish and expensive gifts. The best gist comes from your heart and not from a credit card.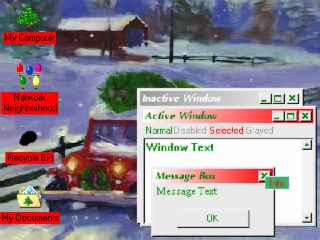 Download Theme
Their is one special note I'd like to make about this theme's included background. The theme became so popular that many years ago, the background's artist contacted me and requested compensation for her work. I have nothing against that type of request, but the artist was demanding payment, secondly it was an absurd amount, and third she had no copyright claim to the background since it was made available for free as clip art.
Whether or not the claim was ligament, I want to thank the artist who painted the original work so titled "Christmas Jeep".
Enjoy.